Have you seen our new "how we help" matrix? We provide such a wide range of services for a variety of clients and realized that sometimes it can be hard to know the full extent of what our team can do for you. To help clarify the value we bring to the table, we've created a chart that defines which of our services may be of use to you. View the entire chart here.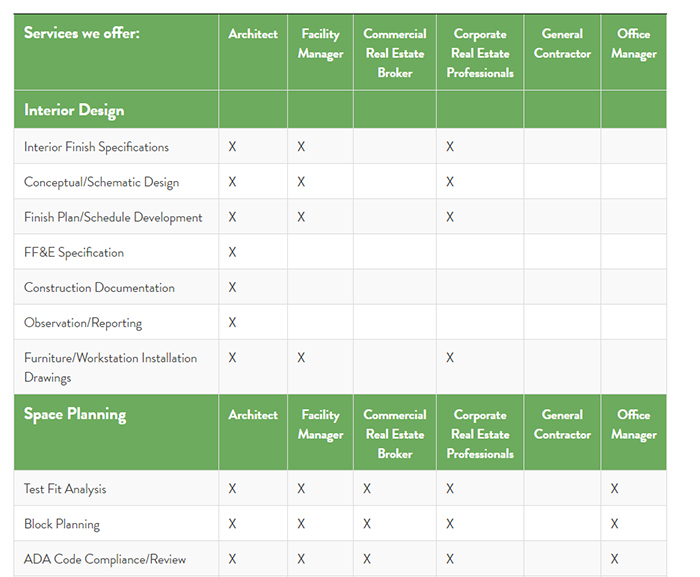 FSI designs offices and workspaces to accommodate how your work environment functions and how your people work. Our clients include architects, facility managers, general contractors, commercial real estate brokers, and more who rely on us for a range of the following services:
Relocation/Expansion/Consolidation Planning + Management
AutoCAD Services™
Furniture + Asset Management
Emergency Evacuation Mapping
Web-hosting of CAD Floor Plans
Phasing Plans
Space Allocation Plans
Ergonomic Assessment + Program Development
Paper to CAD Conversions
Tag Reporting
Floor Plan Tracking + Maintenance
Architectural Product Sales and Installation
From space planning to floor plan updates, from expansion plans to reconfigurations and consolidations, the project managers and designers at Facility Systems help offices like yours plan, design, build, and furnish your workspace.
We are experts in helping you renovate or relocate your office and play nicely with others. We work with architects, interior designers, real estate agents, engineers, and furniture dealers every day. So, we know how to work as a team.
FSI provides comprehensive workplace design and consulting services, from programming to moving in and serves as an efficient point of contact for all of our clients' office location, consolidation, and expansion needs.
Want to discuss your needs with us? Please contact us at: ryan (at) fsikc (dot) com or by calling 913-341-1529.