Better than a crystal ball, proper space planning helps companies shape their office space to meet both the current and future needs of employees and can improve your business productivity. It also allows organizations to use their real estate as efficiently as possible, eliminating wasteful and inefficient space.
What do businesses need to consider for initial space planning?
The number of employees, storage and ancillary requirements is a great place to start. Next, you have to consider the office hierarchy and departmental (or individual) adjacencies that are important within the space. Some employees may get private offices. Others may get work stations, while others may share work spaces in a hoteling or shift-work fashion. Circulation paths, file/storage requirements, copy/print/mail areas, break rooms and other ancillary support spaces should all be considered.
How do companies start the space planning process?
Gather information relating to current headcounts and amenity space requirements for the office space.
Establish a list of employees and the office hierarchy (as it relates to the space requirements of the individuals). Departmental adjacencies, company goals and feature design elements that you desire in the new plan should also be listed.
Project the anticipated headcount growth/attrition for the next few years, typically 3-5 years out. Future projections are sometimes based upon the lease end date.
Select a design company (like Facility Systems, perhaps?) and review the numbers and information that has been gathered.
The design firm will analyze the data, assign square footage requirements to each element and compile that information into a Programming Document that will include square footage estimates based on the data provided.
Upon review and approval of the Programming Document and square footage requirements, potential office space(s) can be evaluated. The designer now has the information necessary to create the initial test-fit floor plans.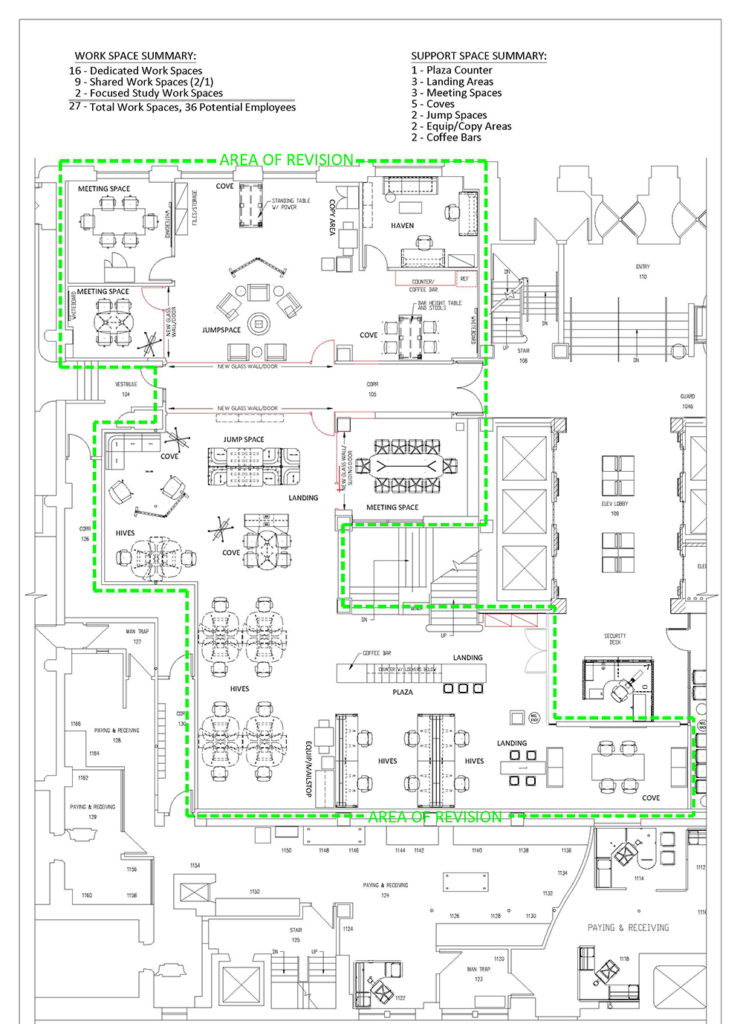 What are common mistakes or pitfalls to avoid?
Be as honest and precise as possible when estimating your headcount projections. These future projections can have a big impact on how much space you may need to consider today.
Hire a professional early, so you can take advantage of their experience and knowledge as it relates to space design. This will stop you from getting too far along in the process without considering all the details, some of which you may not be aware.
What are the benefits of collaborative spaces?
Orientation of work spaces as they relate to ancillary spaces can help boost productivity. Placing team members together and adding collaborative spaces at or near circulation intersections and meeting areas has been proven to lead to spontaneous communication, employee interaction and innovation. Providing a mixture of spaces, private and open, lounge and conference, war room and focused study spaces, will give your employees the freedom to work in the environment that will make them the most productive for the given task.
It's never an easy task to predict the future. We don't know if the Royals will make it to another World Series; however, we are confident that FSI can help you design an office space that can accommodate your needs for this year and for years to come!