In today's office environment, companies are encouraging collaboration with new spaces that go beyond the breakroom or conference table. With many studies showing the benefits, businesses have been adding new areas to bolster camaraderie and spark the generation of original ideas. The advantages of adding more collaborative workspace include:
Savings on real estate dollars.
An increase in employee interaction.
Greater opportunities for innovation, as employees engage with different departments.
A more enjoyable workspace.
Access to employees at different levels within a company.
When it comes to adding collaborative areas to your office, there are number of options. Having more lounge furniture, instead of formal conference rooms, is a great route. Adding high top tables outside of meeting rooms encourages individuals, who are uncomfortable speaking in large meetings, to share their thoughts outside of it. Another option is the utilization of benching work stations. These are designed to support flexible work arrangements and not dedicated to one employee. Employees share these work stations when they're in the office.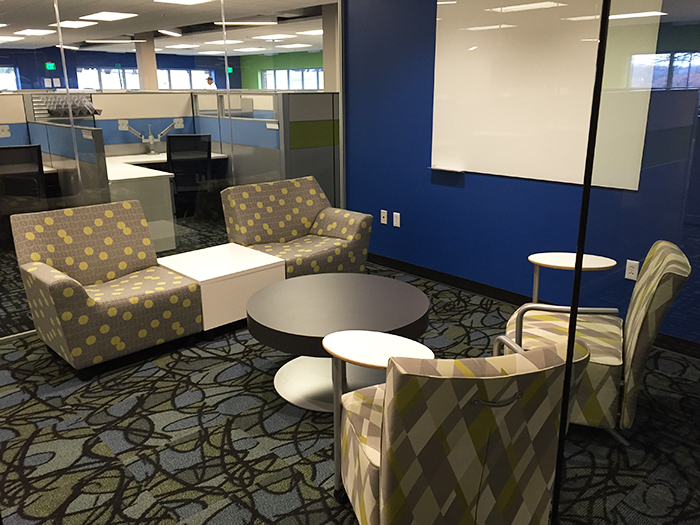 In selecting a location for a collaborative area, there is not a one size fits all approach. Companies should choose a place based on their individual needs. That being said, they are most commonly spread throughout an office to foster communication between different teams and departments.
As you design your space, be sure to consider the following items:
These are often standout or spotlight areas in your office. Make sure they reflect your culture and brand.
Choose materials that are easy to clean, as people will be eating and drinking in these communal areas.
Also, don't forget to include power and data outlets in the furniture. Now, your employees can work in these areas without worrying their devices are losing power.
While they offer a number of benefits, there are a few things you should consider before adding one to your space. The first is there are so many options, designing one can be challenging. These areas are often used to express a company's personality and brand, so selecting a scheme can be overwhelming. To mitigate this, get designers involved early. Another perceived concern can be noise. While this is typically not an issue, a white noise system and/or the addition of acoustic panels can help absorb the sound coming from the new collaboration spaces.