Shook, Hardy & Bacon wanted to update their space and add flexibility. As a law firm, they needed a solution that provided acoustical privacy and a great aesthetic. We were selected to join the HNTB and McCownGordon team for this renovation.
FSI began work on the project during the pre-construction phase. In these early stages, we helped to understand the client's acoustic needs and solidify product selections. We knew the details and worked to select the right solutions. Our early involvement was an asset, as the renovation was on a very tight schedule.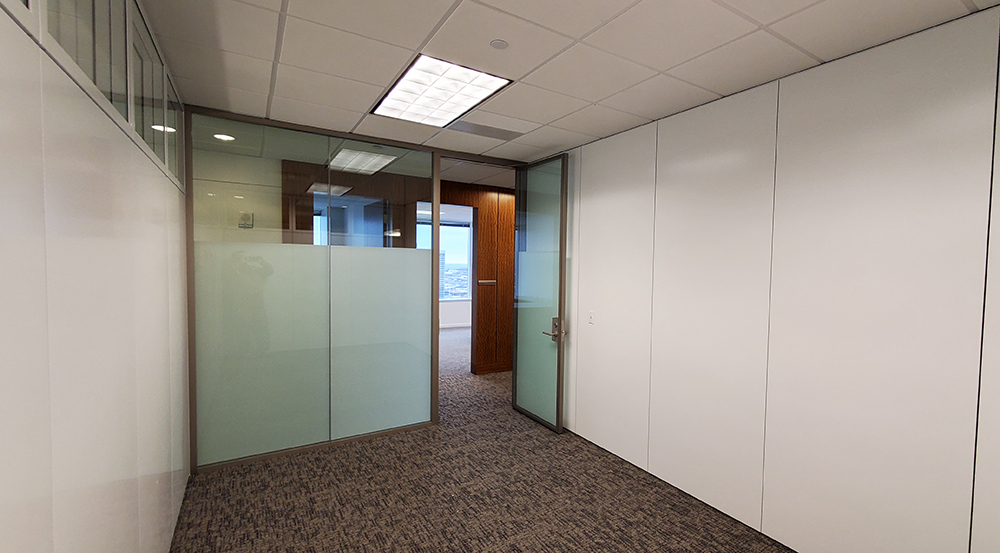 To meet their goals, we specified 2 different demountable wall products. Planika by Muraflex, a solid panel, demountable wall, which can take the place of drywall. Power and data can be run through it, allowing businesses to use it in place of a full build out. It offers companies the opportunity to easily reconfigure their space. It is cost-effective way and less intrusive than construction.
We also used a double-glazed version of the Mimo system, also by Muraflex. This system provides the benefit of glass, allowing natural light into the space, while also offering the acoustical privacy the client needed.
In addition to the demountable walls, we provided motorized shades for their existing windows. The window coverings help manage heat load and sunlight in the space. With motors, they are easier to operate and synchronize.
Shook, Hardy & Bacon is located in an urban, downtown environment. McCownGordon worked with our team to manage the delivery and installation details in advance. Parking and delivery trucks had to access the dock and freight elevator, which required greater coordination and afterhours deliveries.
To learn how we can specify architectural products, like demountable glass walls and window shades, for your project, contact us at relder @ fsikc.com.