Not one office space is the same. Finding the right furniture for your office comes down to size, shape, purpose and how you want the room to feel when you walk in. It takes intentional planning to choose the right furniture that maximizes workflow and creates a space that is worth the investment.
Space planning involves strategic consideration of both allotted space and work processes. At Facility Systems, Inc., we combine square footage and the structure and requirements of your company to efficiently and effectively help you choose the right furniture.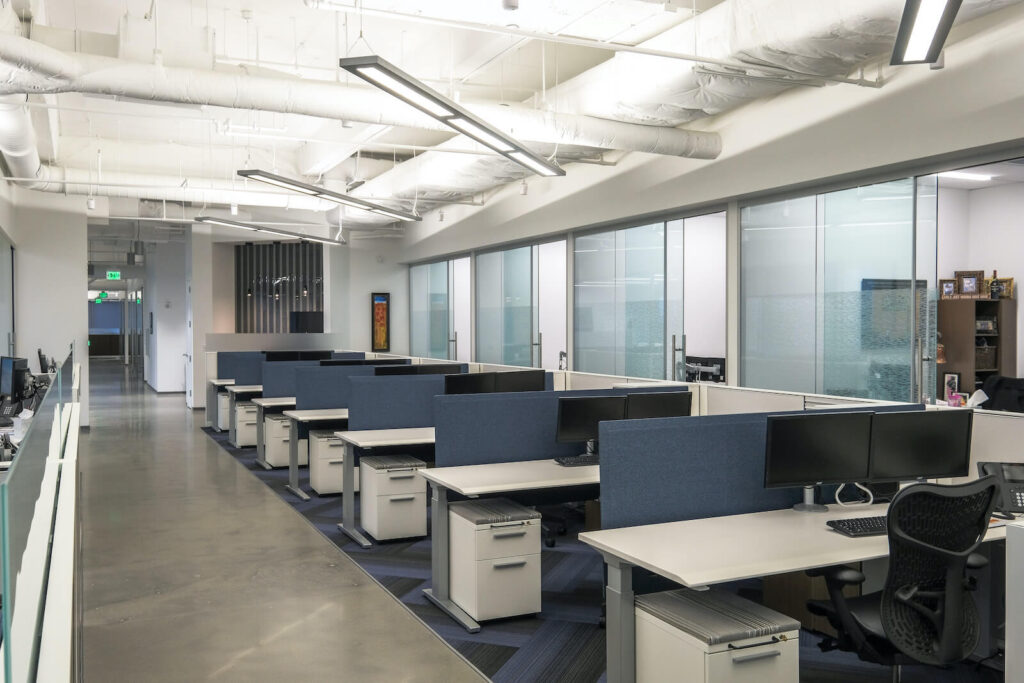 Office Furniture for All Office Needs
Desks
From minimalist mid-century desks to standing and height-adjustable desks, there must be a central hub for all your writing and desktop needs. While specific placement depends on company work patterns and space availability, most layouts are developed around these standard units.
Ergonomic Chairs
Chairs should be catered to your desk's height and style while including adjustable sections for comfort and ergonomics. No one wants to spend eight hours daily in a chair that doesn't fit their body. Since seat preference varies from person to person, the best chairs are height adjustable with a backrest and headrest for additional support.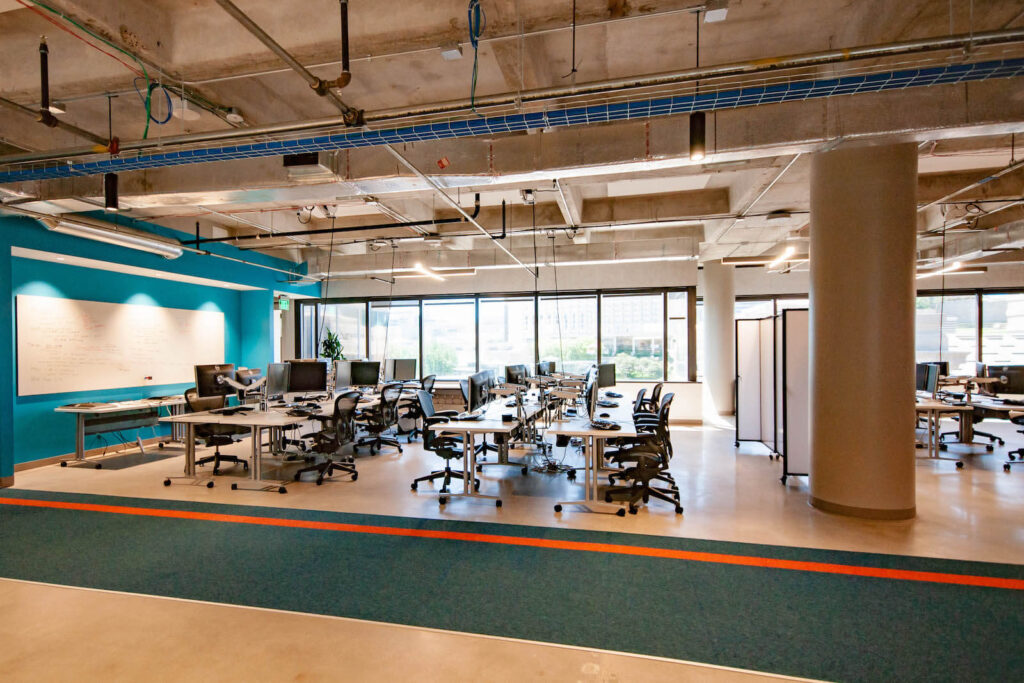 Storage and Organization
Proper storage is an important but often forgotten component of office basics. A cluttered space breeds unproductivity, whether it's stacks of paper, piles of chords or personal belongings. A workplace organizational survey by Brother UK found that workers with tidy desks are 52% more productive. When it comes to office storage, out of sight, out of mind rings true, enabling employees to focus fully on the work at hand.
Consider Collaboration and Comfort
A final critical consideration is supplying employees with spaces for collaboration and lounging. The best team-driven areas consist of chairs arranged for open conversation and whiteboards for brainstorming and visual ideation sessions. For lounging areas, coffee tables and a variety of seating for casual interoffice communication can provide an easy getaway for a five-minute break or a conversation over lunch. While this area might not be the center of work, time spent here can increase employee satisfaction and boost productivity.
Facility Systems, Inc. can help select the specific pieces for your office space through our furniture assessment. We know functionality, ergonomics, design and how to choose furniture that gives you the most bang for your buck.
Configurations for Long or Narrow Offices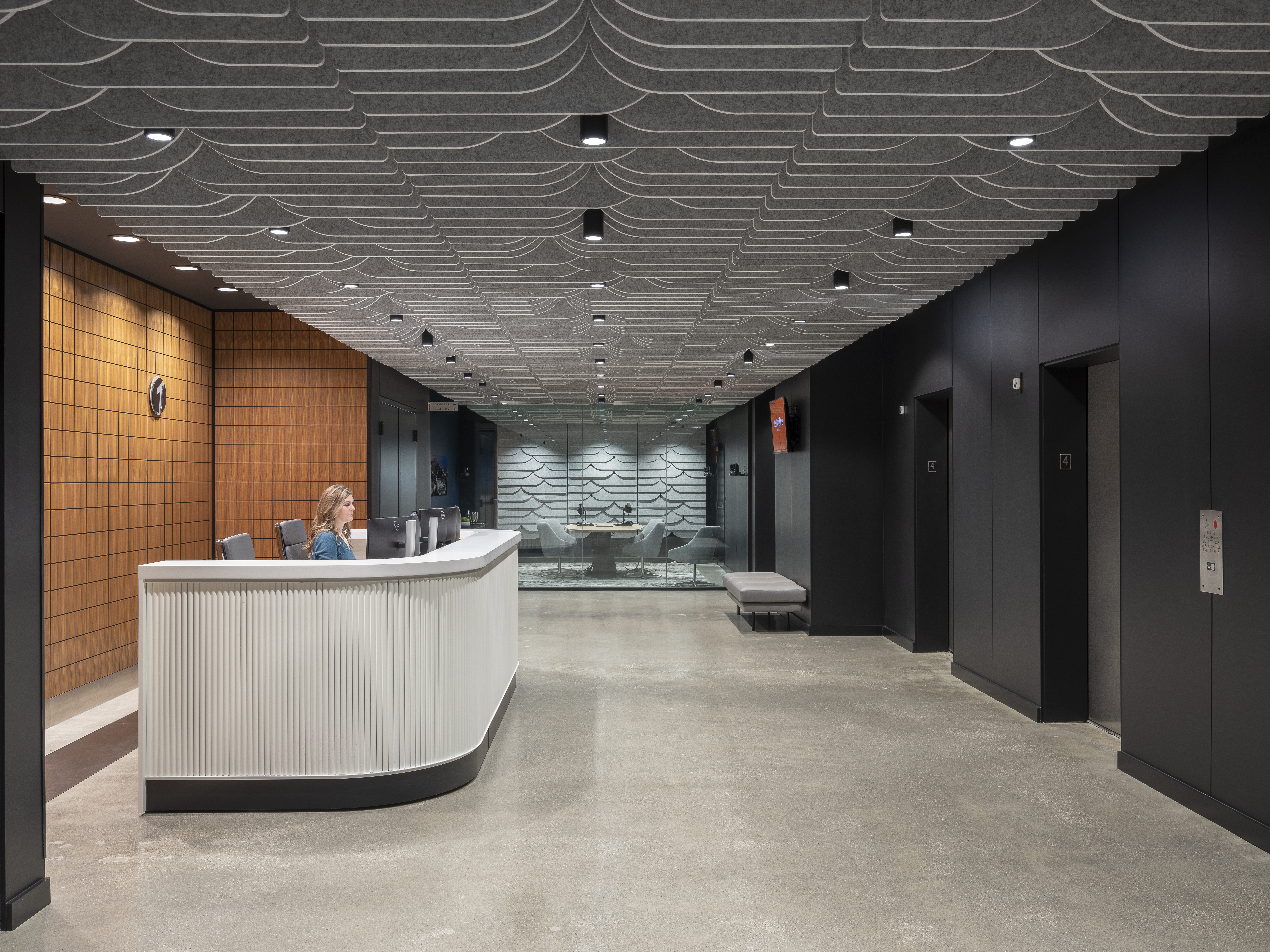 When square footage is reduced, the key is to utilize vertical space. This is especially true for a long or narrow office floor plan where the limited floor space needs functional furniture for easy navigation. Consider using a floating desk against a wall that offers additional room for storage underneath. In rectangular spaces, edges are better than curves. Limit round coffee tables and stools and opt for L-shaped desks and four-sided benches that fit nicely into corners and maximize the middle space. Take advantage of the walls by stacking shelves above the desk or arranging bookshelves or cabinets across the opposite wall. In narrow spaces, emphasize width and height over depth. Slim furniture stretching out across the space frees up the walking room and leaves the office more open.
How to Make a Short Room Feel Tall
Low ceilings can be frustrating, especially when they make the space feel small, dark and cramped. However, there are ways to make a room feel bigger (and taller) than it is. One way is low-profile furniture. Choose sitting over standing desks and chairs with low backs to create the illusion of a higher ceiling. Implement narrow bookshelves and wall accents extending from floor to ceiling. This creates vertical separation and pulls your eyes upward to evoke a sense of height. Lighting and color also play a role in height perception. Avoid low-hanging fixtures and opt for recessed lights installed directly into the ceiling or floor lamps that reflect light upwards. Painting the walls and ceiling the same color blurs the room's boundaries and makes it difficult to determine where the walls begin or end.
Furniture for Small, Collaborative Spaces
A small office floor plan doesn't remove the possibility for collaboration; it just makes planning involve more creativity. The best collaborative spaces flex and change with the day's workflow. Choosing rolling chairs and adjustable tables that can be pushed together or pulled apart creates an environment perfect for a quick, one-on-one chat with a coworker or a team-wide business meeting. Multi-purpose furniture can also come in handy when space is limited. For example, seating can double as storage or tables have built-in extensions that can transform into a collaborative work area. Functional furniture creates an office environment where less is more and ensures minimal space doesn't get in the way of maximum collaboration.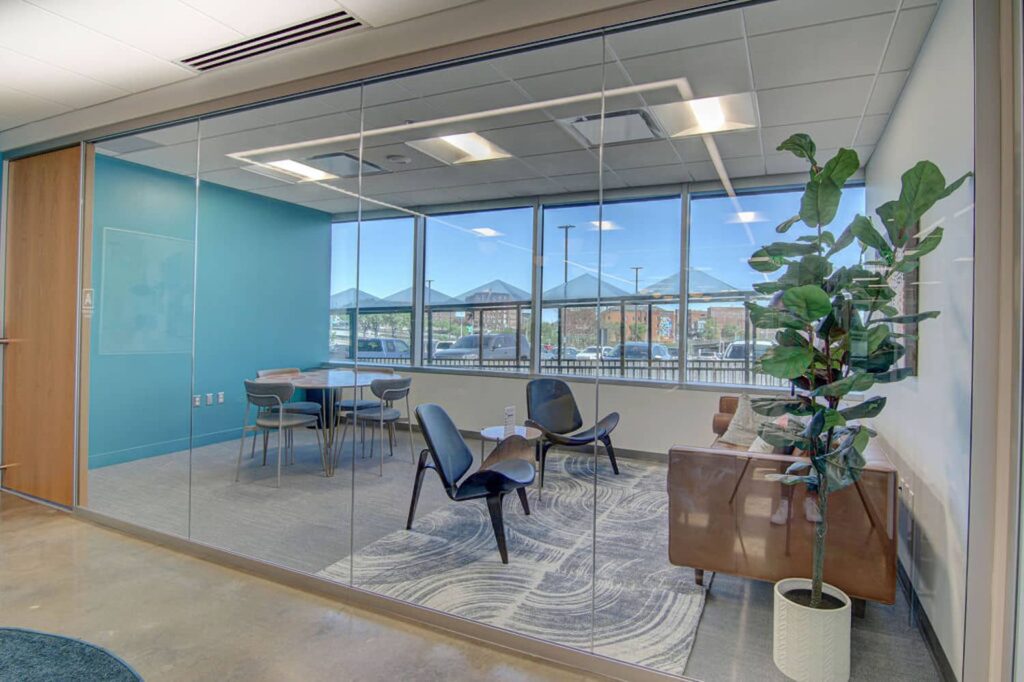 Furniture for Oddly Shaped Office Spaces
Although unique architecture can create visually appealing exteriors, it can lead to not-so-attractive interiors. Unlike standard spaces with clear-cut edges and predictable boundaries, odd shapes and corners can create the challenge of finding furniture that flows and fits in the space. That is why it can be helpful to avoid the walls and bring things toward the center of the room. Instead of desks and tables lining the walls, opt for circular desks and customized workstations that float in the center, forming new shapes and drawing attention away from the awkwardness of the surrounding edges. This allows you to use furniture as dividers to create zones that separate the space for its functions. If you utilize wall space for cabinets, bookshelves or statement pieces, choose the largest wall and avoid angling furniture in corners. Our furniture and workstation installation drawings can help you visualize your office configuration and conceptualize the process from start to finish.
With any shaped space—whether narrow or wide, short or tall, small, big, odd or traditional—space planning and choosing the right furniture enables the space where you work to work better for you.  Facility Systems, Inc.'s facility managers and designers can help you choose the furniture and configurations that suit your unique office space.
Contact us today to get started on planning, designing and furnishing the optimal office space for your business.