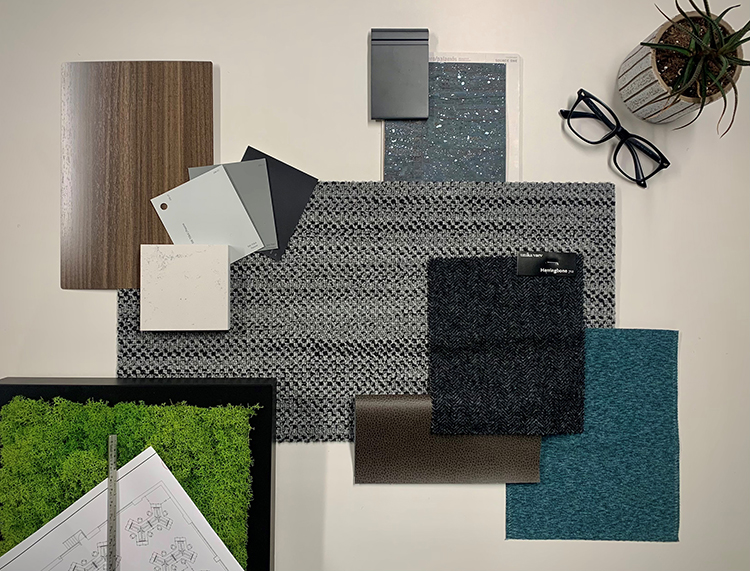 When it comes to designing a new space, selecting the right finishes can help organizations stay within budget, reinforce their brand, and reduce future maintenance. However, knowing where to begin can be daunting. Without a familiarity with product standards and testing, it is easy to overlook the many technical qualities of a material, whether that be abrasion resistance, colorfastness, cleanability, etc. There are also significant differences between commercial and residential grade furniture/finishes.
Through education, training, and experience, FSI's design team is well-versed on the implications of these technical properties and can assist in selecting the best material for the project. For today's post, we sat down with our design experts and asked them to share their tried-and-true strategies for selecting finishes. These six stood out:
Consider the cleanability of the finishes. As part of this process, we recommend consulting with the facilities team for standard procedures. Many materials, particularly textiles, include a cleaning code that indicates which cleaning solution may be used on that specific material.
Avoid selecting finishes based solely on digital images. Request physical samples or go a meeting to see the options in person. Texture, color, and sheen aren't always portrayed accurately on a screen.
Look at the wear and use of pieces currently within your space. For example, walk-off carpet in the entry is going to have a lot more foot-traffic than the carpet in a conference room. As you choose something new, keep the application in mind.
Make aesthetic finish decisions based off physical samples within the space they will be located, if possible. Varying degrees of natural and artificial lighting, as well as material adjacencies can have major impacts on the eye's perception of color. At Facility Systems, we often lay out all the known or potential finishes together in our design library, where there is an abundance of natural light. This allows us to coordinate finishes more accurately.
Don't pick solely based on price. While the least expensive option might sound attractive at first, it may cost you more in the long run if it requires repair or needs to be replaced sooner.
Understand where to invest. For companies with tight budgets, it is important to consider which pieces and spaces will need to be of higher durability and/or aesthetic quality. Places and pieces with the most use should, in most cases, take priority. For example, a task chair that an employee will be sitting in 6-8 hours a day should probably have a little more importance placed on it than the office guest chairs that are used 30 minutes a week or less. You also should also consider how important different "looks" or materiality are to the space. Do you need solid wood or veneer worksurfaces, or could it be laminate? Does the executive's office suite require leather upholstery, or is a more durable imitation leather product a viable option? The bottom line is that the answers to questions like these will vary from client to client, so it is important to understand what is most important and appropriate for the space.
Still not sure where to start? We can help. Our interior design team serves as a formally educated source of brand knowledge, durability, and aesthetic quality on behalf of the client. As a representative, we can help provide a focused set of options, based on our clients' preferences. We are more than happy to engage with product representatives and manufacturers to find information and provide physical samples for review. Contact us to learn more.